Gia walks into one of the nuru massage rooms looking for her friend who works there, and she finds this naked guy laid on the mattress waiting for his masseuse who bailed him. Gia always wanted to see how it's like giving a massage so she offers to do him and he accepts. She gets naked and starts rubbing his body in oil, then she takes his cock in her hands and strokes his dick until he cums! Well you can bet that she is more than welcome to come back any time to practice this art, as the owners sure didn't mind having another satisfied customer.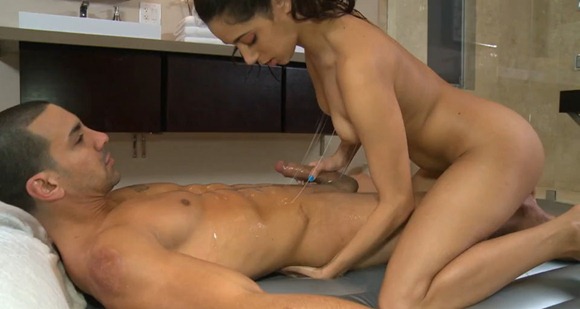 You can imagine that this petite cutie was quite the eye catching candy too for this guy, and he was very happy to let her have fun even though she may or may not have had experience with this. And she gets to it straight away, but it seems that she was a little bit too horny herself as soon as she got to see his nice and big cock all hard and ready. So she of course ended up giving his cock a nice and good ride with her pussy instead of finishing up her massage. It's not like the guy was upset about it either as he was more than happy to pound that tight cunt too!
Enjoy as this babe gives an erotic massage for the first time!